Superior Central Heating In Addition to Air Conditioning
The Unico System is a no compromise solution for central heating in residential homes and condominiums. The Unico System has these major advantages when compared with other heating options: small size and footprint; flexibility to easily match with almost any heat source or Indoor Air Quality (IAQ) system; and, as a central HVAC system, it adds long-term value to your home.
As trends in home construction and renovation require tighter envelops, higher efficiencies and more integrated HVAC/smart home solutions, The Unico System has become a highly preferred integrated option for residential heating. Our variety of heating coils give HVAC installers and end-users a range of heating solutions that provide superior and efficient comfort.
Here are the many ways you can heat with The Unico System.
UNICO HOT WATER COIL+
Hydronic heating with a Unico System hot water coil matched with a boiler (or, less commonly, a high efficiency hot water heater) is an excellent method of efficient, comfortable central heating. This method can be used as primary heating or as a supplement to radiators (either free-standing or baseboard-mounted) and is an exceptional partner to in-floor radiant systems. Because The Unico System provides instant heat it is a perfect companion to these types of systems in the "shoulder" months – those times when just enough heat is needed to take the chill out of the air and firing up a radiant system would take too long and expend too much energy.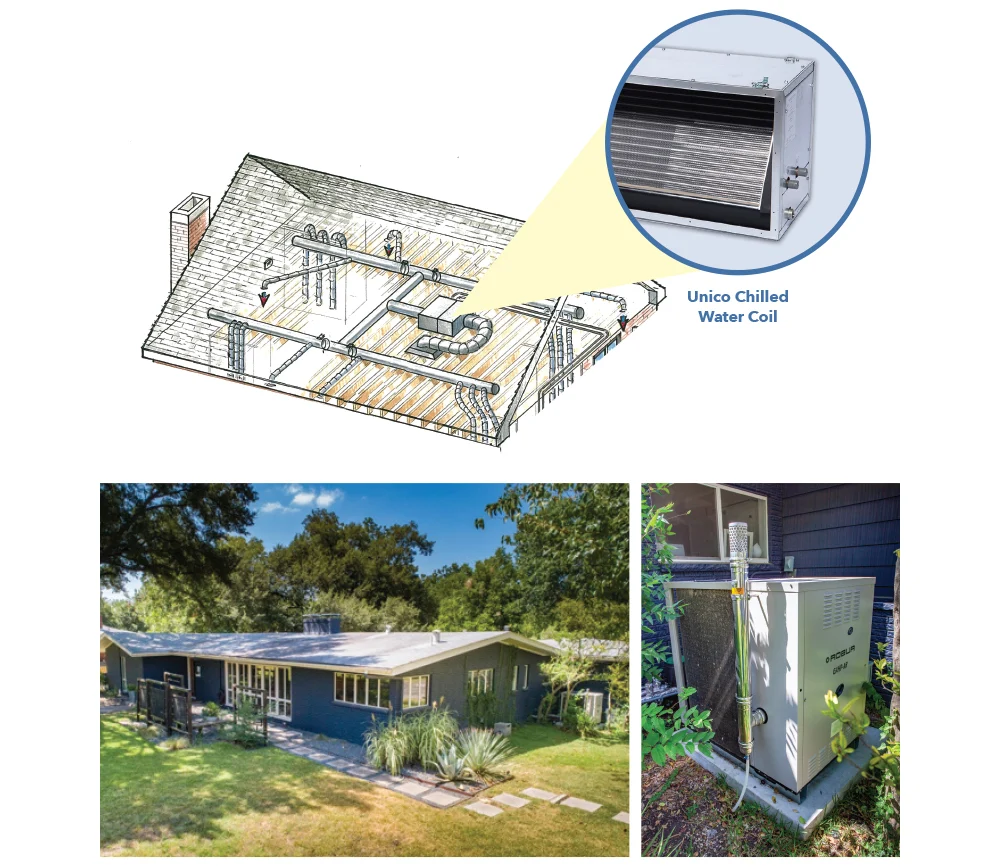 UNICO HEAT PUMP (STANDARD REFRIGERANT) COIL+
The Unico System standard refrigerant coil can provide both central heating and cooling when paired with either an outdoor air-source or ground-source (geothermal) heat pump. This method has a distinct advantage over conventional central air system's heat pump coils in that the air it puts out actually feels warm, delivering higher inside temperatures when outside temperatures fall.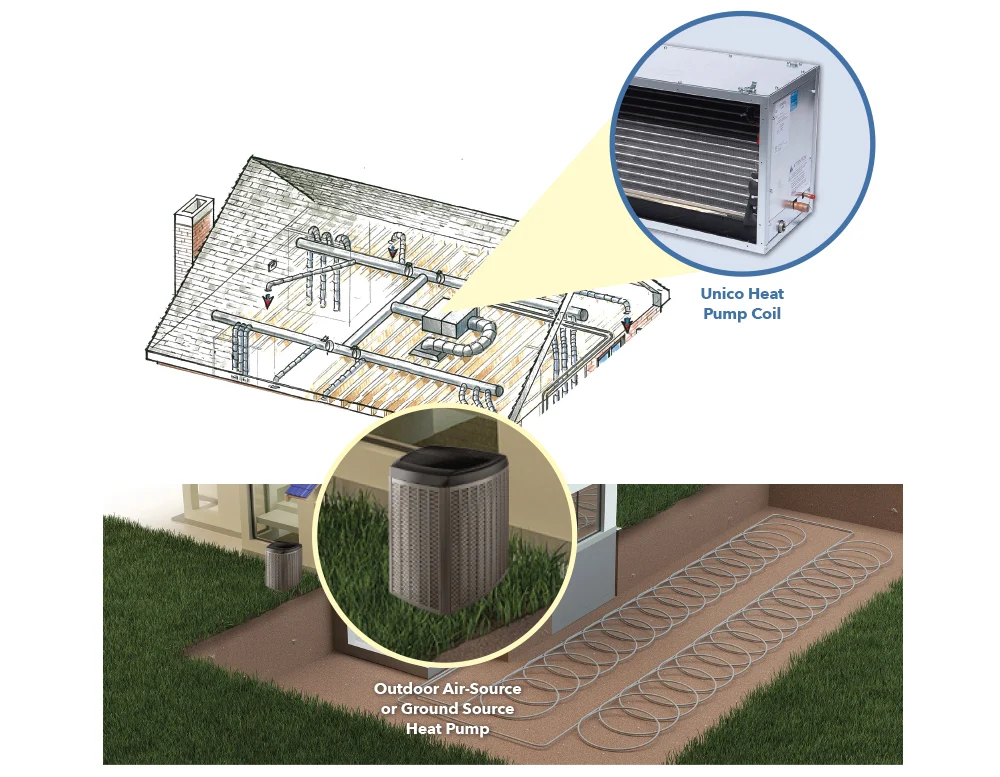 UNICO HOT WATER COIL + HEAT PUMP (STANDARD REFRIGERANT) COIL
These two Unico System heating coils can be paired to automatically choose the most efficient heat source for conditions both inside and outside the home.
This solution is perfect for homes with both a hydronic hot water system and an outdoor heat pump. In general, a heat pump is a more efficient heat source than a hydronic system. However, in very cold winter climates, a heat pump may lack enough capacity to adequately heat the home itself. A Unico System with a standard refrigerant coil tied to the outdoor heat pump and an additional hot water coil tied to the boiler loop, will use the heat pump until it cannot keep up and then switch to the boiler loop.
This solution provides the most energy efficient comfort possible using standard equipment options of The Unico System.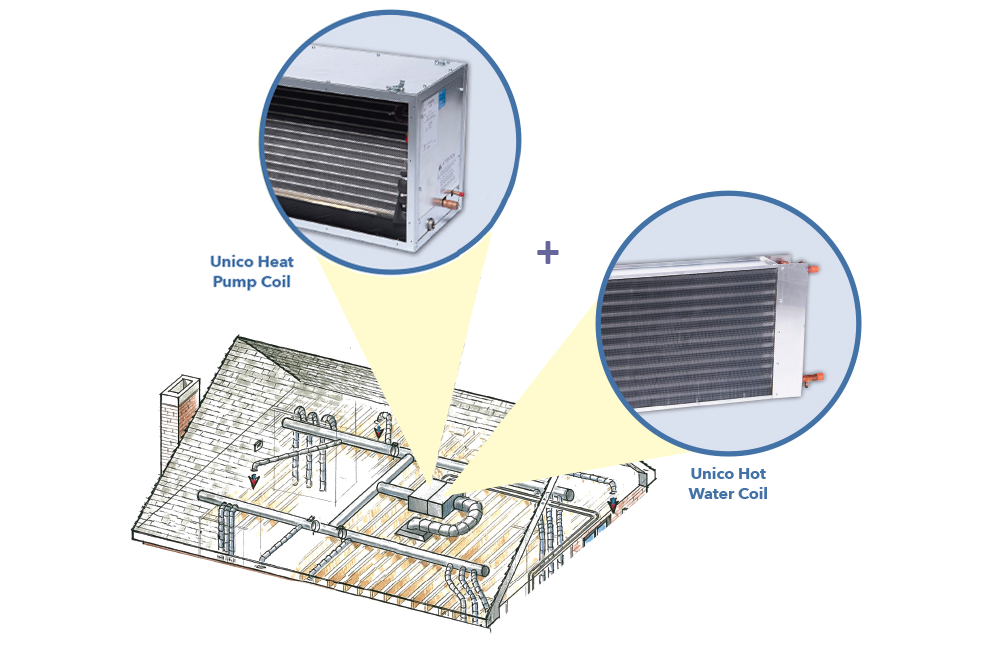 UNICO CHILLED WATER COIL+
The Unico System chilled water coil can provide central heating when paired with a water-source (water-to-water) geothermal heat pump, an air-cooled reverse cycle chiller, or a gas-fired outdoor chiller as demonstrated in these pictures of an installation in Texas. Because the outdoor unit in this application is fueled by natural gas it has a very low electrical draw which, when matched with energy efficient Unico air handlers, results in superior and highly efficient central heating and cooling.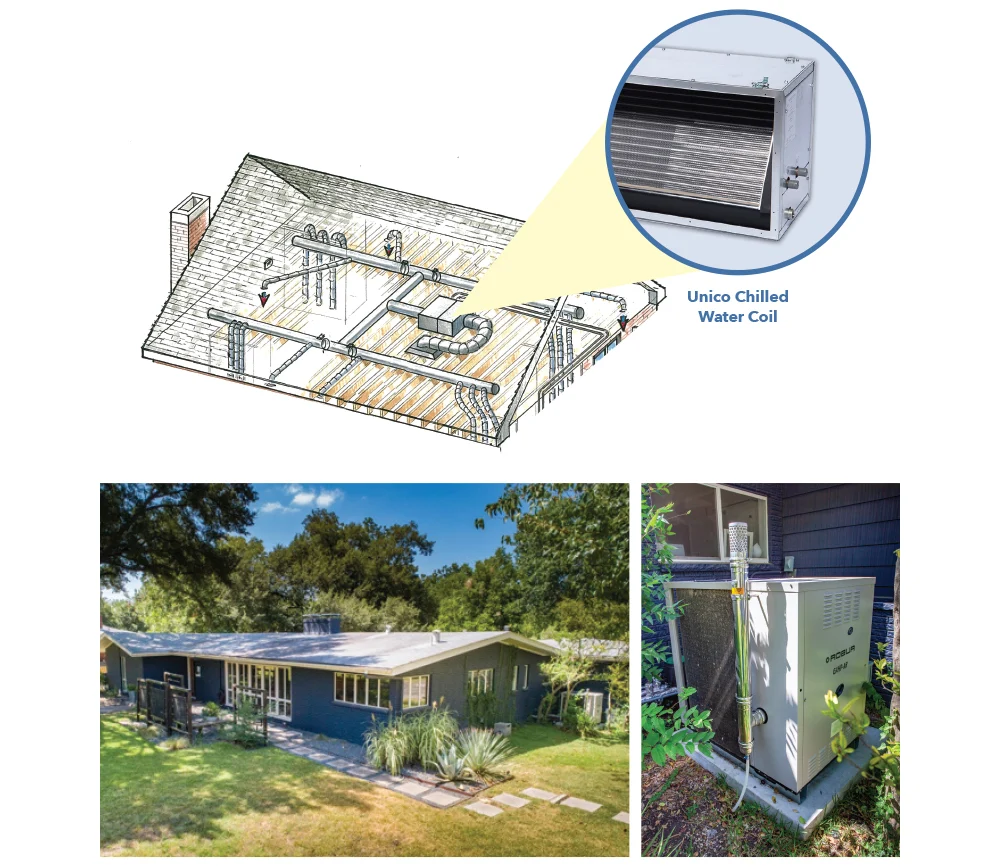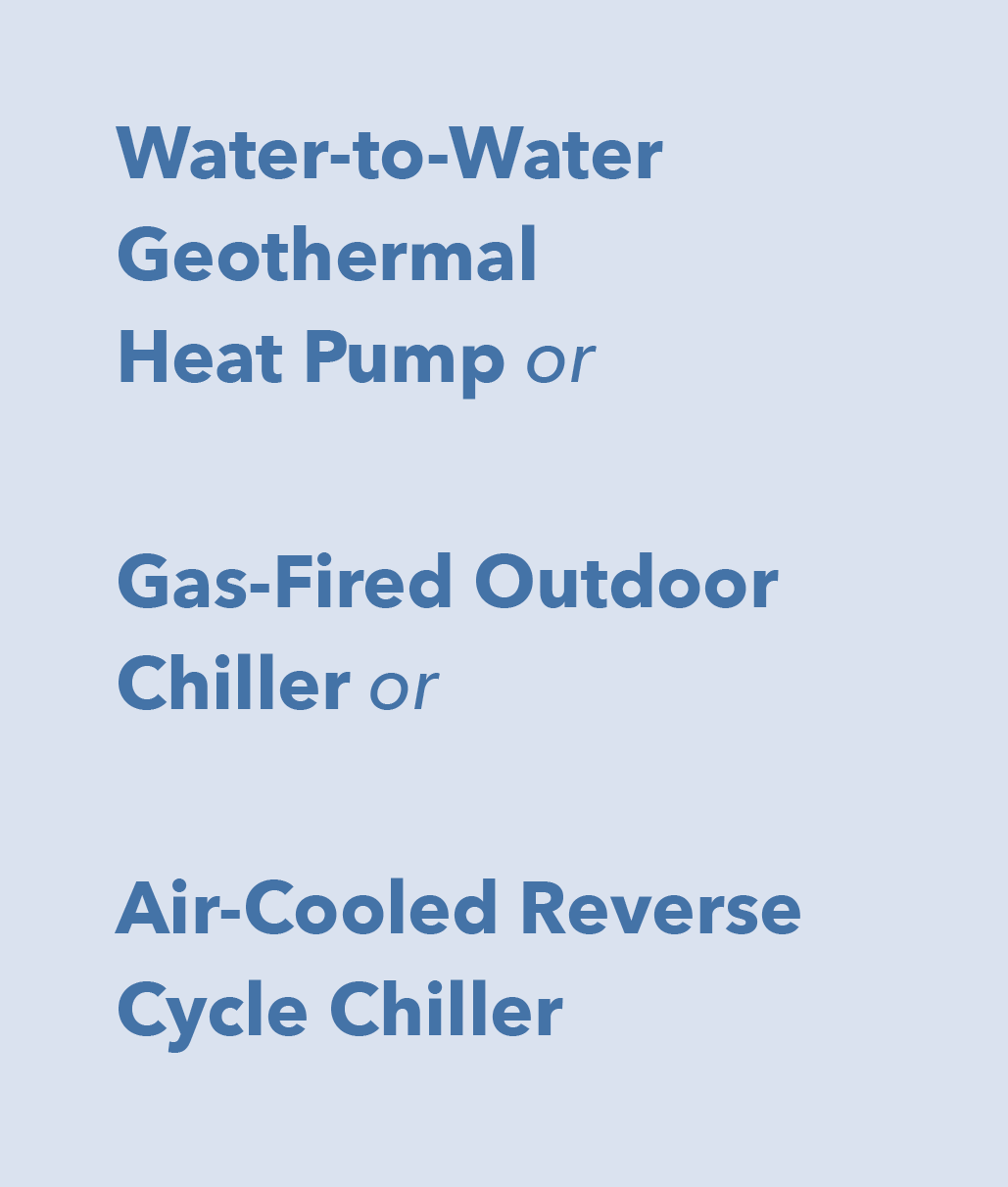 UNICO ELECTRIC DUCT HEATER
An electric furnace that can be placed directly within the plenum (main duct configuration), the Unico electric duct heater provides immediate heat and is available in sizes ranging from 2 to 20 kW. Unico electric duct heaters can be used for primary or auxiliary heat. No matter which method you or your installing contractor choose you'll be sure to get the very best in efficient, comfortable small-duct central heating.
For many years The Unico System has been known as the best option to add central air conditioning to a home with no ductwork in the original design. This is certainly still true today. However, as trends in home construction lead to tighter and more integrated heating solutions, The Unico System is also the most effective and flexible heating option for residential construction. The Unico System's flexible design integrates with all major heating sources, IAQ systems, the most efficient geothermal and heat pumps, and smart home thermostats.
No matter which method you or your installing contractor choose you'll be sure to get the very best in efficient, comfortable small-duct central heating with The Unico System.
Unique Indoor Comfort – King of Prussia
780 5th Ave Ste 140, King of Prussia, PA 19406-1437, USA
Contact Information