250-Year-Old Long Island Home
Upgrading a Colonial Era Home with Modern, Efficient HVAC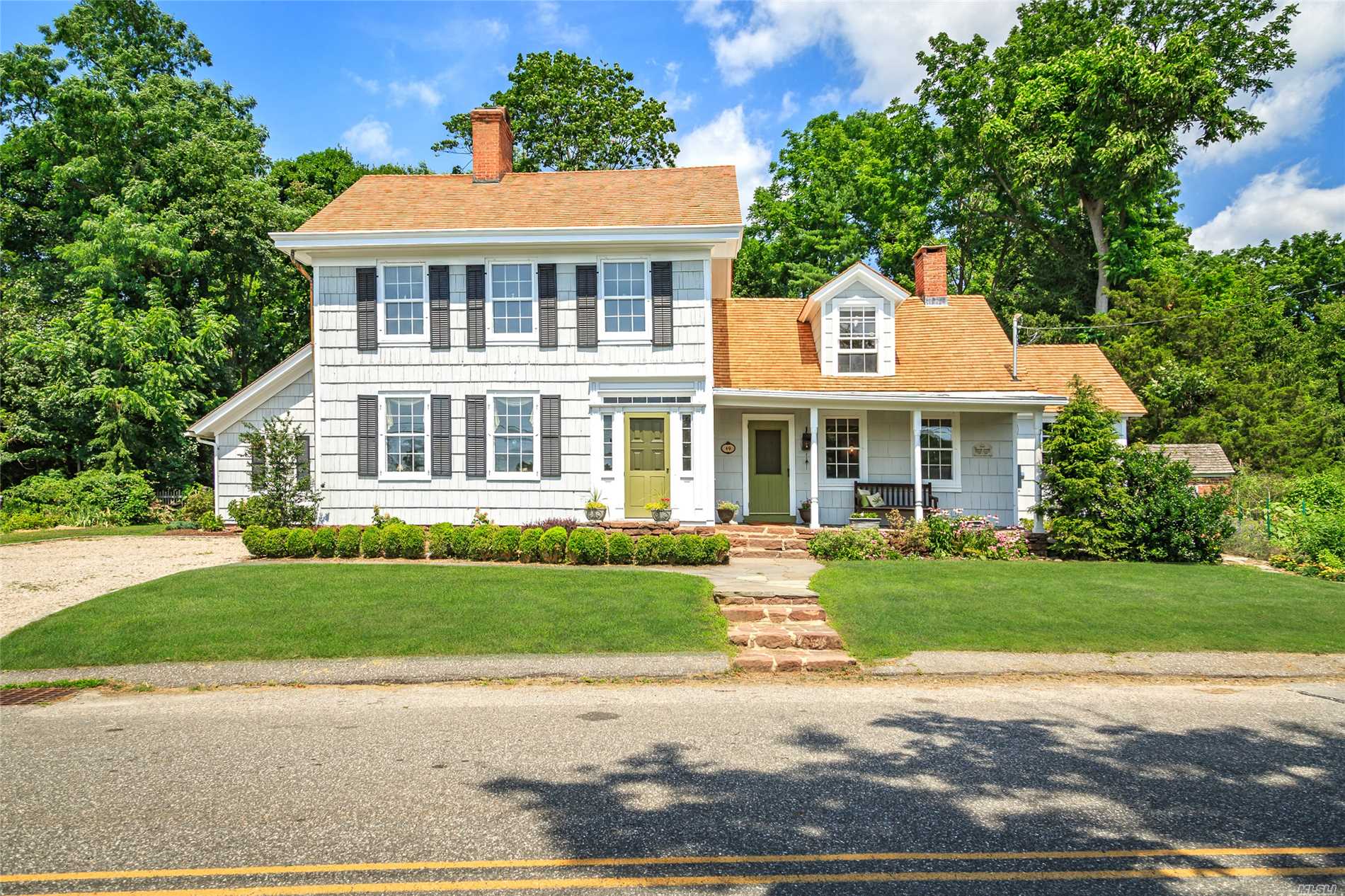 Founded in 1655 by English colonists, the hamlet of Setauket, NY sits on the north shore of Long Island. Eventually, the village became part of the town of Brookhaven and was the site of many historic events during the Revolutionary War – including being the home of the Culper Spy Ring which passed information about British troop movements to George Washington and exposed Benedict Arnold as a traitor. Many homes still standing in Setauket date back to Colonial times, including this white shingle-clad home on the shore of Setauket Harbor. The original "cracker box" structure has elements dating back to 1773 when it was initially built. The house sits on a stone foundation with a dirt floor crawlspace and original features include timber beams in the dining room ceiling and wood plank flooring throughout.
The home posed two challenges in being retrofitted for whole house air conditioning. First, the dank crawlspace is quite shallow and not well insulated. This created issues regarding duct size and energy loss associated with traditional AC solutions. Second, part of the home's charm is the fact that it features so much Colonial architecture and, as a byproduct, offers very little space within which to fit a central cooling system. For years, the homeowner simply relied on noisy, inefficient window units to keep cool in the sweltering summer months – which have increased in severity and length in recent years. The homeowners were truly in a quandary about what to do, until an online search led them to The Unico System.
After visiting Unico's website, the homeowner got the contact information for Energy Mechanical from the contractor locator feature. Mike Raguseo, Energy Mechanical's owner, has been installing The Unico System for over thirty years and he knew it was the only viable solution upon his first site visit. Over his many years of experience with Unico, Mike has installed it in a number of historic properties, including the Louis Armstrong Home and Museum in Queens. The homeowner's biggest concern was that grafting AC ducting to the home would disrupt the period feel of the home and its quaint aesthetics, but Mike assured him that not only would The Unico System preserve the home's originality, but it is the only system that could physically fit into the tight spaces of the structure. The homeowner was very relieved to find he could add air conditioning to the house without sacrificing the unique features of the 250-year-old structure. Mike was able to overcome the space constrictions and install a 3-ton Unico System air handler paired with a Rheem outdoor condensing unit to provide superior cooling for the 1,200-square-foot home.
Not only is the homeowner pleased with the preservation of his historic home, but his comfort during hot seasons has been greatly improved and his energy expenses have been greatly reduced with The Unico System replacing his old, inefficient window units.
Installer:
Mike Raguseo
Energy Mechanical Inc.
(718) 866-8544
www.energymechanicalny.com
Distributor:
MCN
(631) 753-1800
https://mcndist.com/